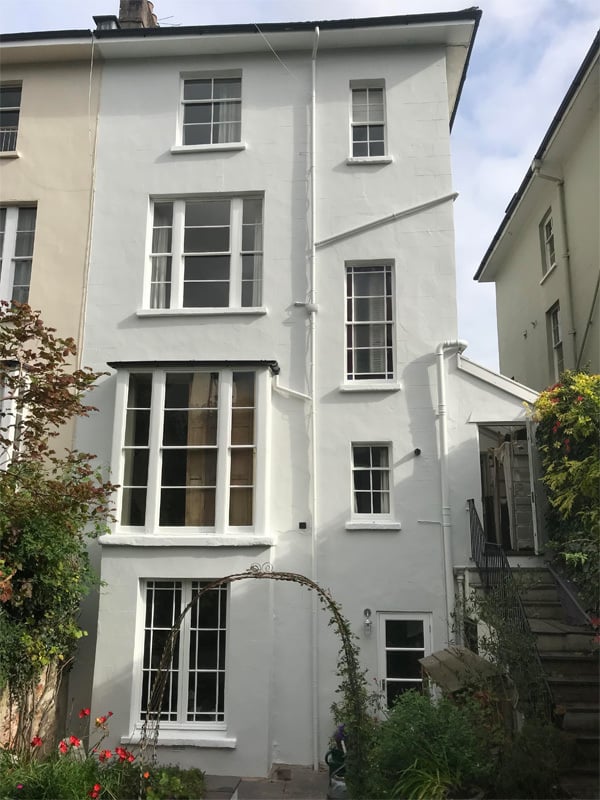 External decorating job near the center of Bristol
"At the start of Spring 2017 we were asked to supply a quotation for an external decorating job near the centre of Bristol."
The client had found us through a recommendation from a construction company that BC Services has carried out work for.
Upon supplying the quotation to the client which they accepted we arranged for a convenient start date.
BC Services arranged for a sub-contract scaffolding firm to erect a fixed scaffold to the exterior of the property to enable a safe working environment.
---
PHASE 1:
Property upon viewing at the quotation stage
---
PHASE 2:
Before any work commenced we covered and protected paths and patios etc. BC Services then carried out preparation work to all the external sash windows of the property which consisted of sanding down with 60-80 grade sand paper, using rot treatment and two part external wood filler, BC Services repaired sections of damaged sash windows with these products. We removed defected putty from glazing beads and applied new.
---
PHASE 3:
Following all preparation work and allowing suitable drying times we then applied a two coat flexible external undercoat system.
---
PHASE 4:
The construction company that recommended BC Services to the client also carried out stitch repair work to the render on the external of the building leaving it with a suitable base for decorating.
---
PHASE 5:
Once the construction company had finished the sections of new render BC services returned to the property to carry out the remaining decoration work. We applied Sandtex stabilizing solution to the new patches of render then carried out a two coat Sandtex high cover smooth masonry paint system to the façade of the property. BC Services then applied one coat of flexible Sandtex external gloss to the sash windows.
---
PHASE 6:
Once the decoration was completed BC Services cleaned the windows of the property.
---
PHASE 7:
These pictures show the property once all work was completed.